In the packaging industry, machine builders are shifting their focus from machine sales to service sales. This requires them to think beyond the traditional product offering and get into the customer's shoes. VH Vertical Packaging, JASA and Repak share their vision.
In the future, the majority of profit will come from service sales. Service sales can help machine builders generate stable and recurring revenues. This reduces the risks of low margins in traditional machine sales. In addition, the focus on service will boost customer satisfaction.


What does the future of the packaging industry look like?
Regardless, the future of the packaging industry will look completely different in 10 years. Servitisation is going to cause a big change in the market. How you respond to this can contribute to your distinctiveness. In any case, it's important to understand your customers' needs in order to offer value-added service.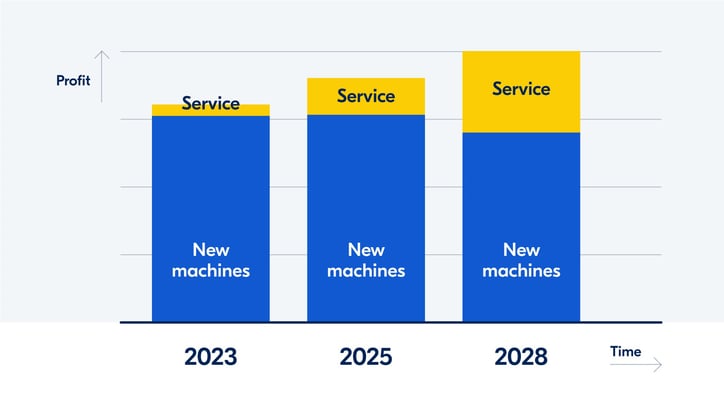 In the future, most of the profits in machine building will come from service.
Eelco van Schaik, Area Sales Manager at Repak explains how they are approaching this: 'We are in the exploratory phase and are conducting customer interviews to identify what customers expect from our service.' This information helps to take the first steps towards new service models. 'I think packaging as a service could become a common business model in the future. Monitor how many products you pack and bill accordingly.'
VH Vertical Packaging believes it's important to create returns through service for both the customer and themselves. They want to offer the customer a platform that unburdens them and allows them to provide service based on data. 'If the customer sees the added value of this because his production line will run better, he is also willing to pay for this,' says Freek Jacobs, Managing Director at VH Vertical Packaging.
He continues: 'In a few years, operators will be able to replace parts themselves based on tracked data. There will be a shift from field to desk engineers. These desk engineers can solve problems remotely based on data and translate this to R&D so they can structurally improve the machine.'


What plans do machine builders have in terms of service?
VH Vertical sees that service levels need to go up in the future. Freek explains: 'When a fault is found and the bottleneck is in the packing machine, we have to log into the machine remotely to see what's going on. Additionally, we monitor the machine performance and proactively approach the customer with an action plan.'
'Every customer is excited when we say that we can use data to ensure that uptime remains high. However, we have to show the customer that we don't use machine data to prevent downtime. After all, we do that anyway. We have to show that we use data to continuously monitor and optimise performance.'

Eelco notices that companies are increasingly asking for Repak's service after delivery of the machine. Continuity is essential here. 'At the moment, we offer remote monitoring and preventive maintenance as standard. This is the first step. Zero downtime is the goal for us. A line should run and deliver output as much as possible. Data provides insight into the overall OEE performance for our customers' production processes.'
JASA Packaging Solutions also finds that it is vital to monitor the performance of spare parts, as this leads to less downtime. 'With these insights, we can proactively contact customers and increase customer satisfaction,' says Joost Breed, Software Developer at JASA.

Online portal indispensable for service delivery
It's essential to have a customer facing portal to meet your customer's growing service needs. In such a portal, you can manage the entire machine fleet. Both JASA Packaging Solutions, VH Vertical and Repak already have an idea of how they want to deploy this.
'Our bigger goal is a JASA portal for both the customer and ourselves. Here the customer can see data such as counter readings. We ourselves can see when spare parts need to be replaced. Ultimately, we want to move towards the customer even being able to order the parts directly through our portal. IXON offers us these possibilities,' says Joost Breed.
VH Vertical wants customers to soon be able to log into the machine themselves via their portal. 'With IXON Cloud, we have a portal with extensive user management and custom options. Here we can translate data into a view that is clear to the customer,' says Freek. These data insights help customers train their staff based on this, for example.

For Repak, it's essential that output is accurately measured and insightful. 'We chose IXON because they understand the machine building business and can support us in our challenge,' says Eelco.