Bäumer, specialist manufacturer of foam cutting machines, has a strong vision on Industry 4.0 and servitization. With their SophieAccess solution they are one step ahead. In this interview Christoph Hauck, CEO at Bäumer and Project Manager Lukas Neuenhausen tell how they approached servitization. Adrian Dudziński, Technical Director at their customer Ikano Industry explains how they benefit from SophieAccess.
Bäumer's vision on Industry 4.0 and servitization
Over the past 10 to 20 years there's been a transition from old fashioned machine building companies to IT companies. In the past, hotline service usually was free of charge, but it started to cost us a lot of time. This is the problem virtually every old fashioned machine building company is facing.
At some point, there must be a sense that selling the machine is fine, but there's more which we shouldn't give free of charge. Nowadays many companies like Bäumer are working on a strategy to generate revenue from service packages to best service customers.

Challenges in terms of Industry 4.0 and servitization?
Hauck: 'It's a challenge to find out quickly what the individual questions and demands from each customer are. We have small customers that just want a machine that works and we have customers who want to be supplied with anything possible. At the same time we need to make sure our people know about the different customer expectations. You can't take for granted that you're developing in one direction and think 100% of the market will buy it.'
Neuenhausen: 'Back in 2015 the need for digital services was identified at Bäumer. In 2019 we launched our first service and IoT portal. Unfortunately, most of the available functions didn't really help our customers, and I couldn't convince my colleagues to use it. For them it was too difficult to use, and they experienced many problems with connections.'
Switch to current solution
Neuenhausen: 'At that point, we realised we had to switch to another solution, which had to be as easy as possible. That way it also becomes easier to sell it to the customer. That's when we started working with IXON Cloud, which made it much easier to implement our SophieAccess service package. The internal effort for commissioning and setting up a remote connection was reduced by 50%. Our customers now enjoy using remote access again.'

Internal adoption of servitization
Hauck: 'The biggest change in the organisation for us when starting with digital services was the collaboration between different disciplines. Years ago, we started with electrical and mechanical people, but now another discipline is added: the software guys. They need to work together from day 1 and understand each other.
Other than that, there was not much change needed. Our people all know digitalisation is important. Although, I do get the question if they can see the revenue it generates, also from shareholders. However, you can't consider everything with a ROI. We have to invest now because digitalisation is important. It's the reputation of the company. Maybe in years time we will get the ROI of what we just started, but you can't calculate it like with selling machines.
Of course, before our customer pays big money for our Sophie package they want to make sure it's value for money. That's one of the reasons why we skipped the previous solution and switched to IXON Cloud. We are happy with their solution. Services are great, response time is good and it's value for money.'
External adoption of servitization
Hauck: 'Our customer Ikano, IKEA's supplier of mattresses, has recognised very early what they can do with data and already chose to work with our SophieAccess service package. They are now gathering data from the entire manufacturing process.'
Dudziński: 'About ten years ago, I heard about Industry 4.0 for the first time. Then our focus was to automate, robotise, and implement IT tools for our production. We kept data in different systems per department of our 300 meters long production line. This made it hard for us to match the data and keep traceability.
Bäumer's SophieAccess is a system that helps us to produce transparently and more efficiently. All data is now available from one central point, which makes it more clear for everybody. It's much easier to investigate, also during production. We can take direct action in case of a problem instead of after production.
Additionally, we can accurately calculate the production costs and our consumption of raw material. Before we had a safe margin, but now we produce with minimum waste, saving us a lot of money.'

Advice for other machine builders
Neuenhausen: 'Prioritise and go step by step. Don't try to create a solution that solves many different needs. Concentrate on one. Get the feedback of the customer, try to improve, or leave it at an early stage without spending too much time on it. In addition, you need people who work on digitalisation as a project and talk to the customer.'
Hauck: 'Go for a professional service provider. You can waste so much time, energy and money by trying to do it yourself, or by picking the wrong service provider.
It's basically 3 keys to success. 1: know the tools you're using. Know how to program a PLC, know how to set up the remote package, and feel you're playing it. 2: know the customer. They have different specifications of how the machine is or how a control cabinet is being built. 3: Live in the customer's process and know the technology. Know exactly what the customer is doing with the machine.
If your engineers are fully aware of these 3 items, it's a 100% win.'
Future of Bäumer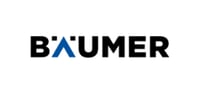 Neuenhausen: 'For the future of Bäumer, we're concentrating on 5 digitalisation pillars: connected systems, intelligent and efficient machines, best support for the portfolio over the lifetime, individual solution competence based on the standard product portfolio, and portfolio extension and external value creation.'