IXON Cloud's Report Generator makes it possible to easily export machine data into PDF reports.
With IXON's Cloud Logging you can collect data from all your machines and visualise it in dashboards on the platform. However, you want to ensure that everyone involved is kept up to date with the latest insights. The Report Generator makes this possible by exporting collected PLC data into PDF reports.
Create PDF reports from machine data
You can easily design your reports in IXON Studio by adding visual components with relevant KPIs and metrics. You can include both pre-build components and your own custom components. It works as easy as creating machine pages. When your design is finished you can generate unlimited reports. Next, it's time to export the selected machine information in one of the following ways:
Download the report instantly
Get the report periodically delivered to you by email
Send the report directly to your stakeholders
The Report Generator allows you, your colleagues and stakeholders to stay informed about important KPIs without accessing the platform.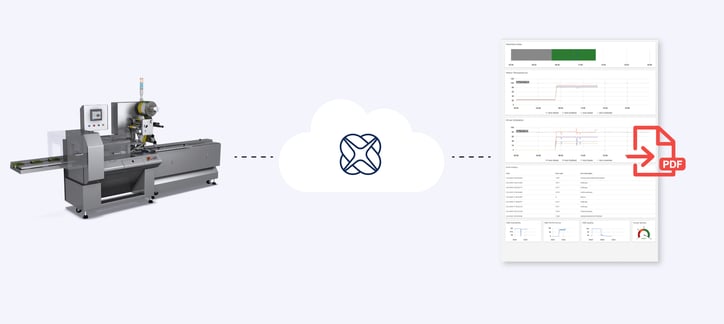 Use cases
We have described some common examples of how our customers use the Report Generator to their advantage.
Use case 1: Performance monitoring
The need:
Service managers want to stay informed about the key performance measurements of their machines out in the field.
The result:
With the Report Generator, you set up a report template once and have a performance report sent to your mailbox every morning, week, or month. Start your morning routine, quickly scanning your machine fleet performance, comfortably from your mailbox.
Use case 2: Machine record keeping
The need:
When there has been a disruption of machine operation, it is good practice to keep a log of what happened and why to learn and prevent, or to advise people who used the machine incorrectly.
The result:
Using the Report Generator, the OEM can create an easy-to-read PDF export (of PLC data), which they can use as a file with any incident report within their own systems.
Use case 3: Proof of regulatory compliance
The need:
Some sectors face regulatory rules where the end user needs to prove their compliance. Take an air scrubber for example, where an auditor requires the farmer to hand over an output quality report on request.
The result:
With the Report Generator you can create and share a report for your auditor on the fly.
Use case 4: Reporting as a service
The need:
Machine builders may choose to offer periodic reporting on insights to their customers as a value added service.
The result:
With the Report Generator the analist can easily export the insights. He can use graphical representations that are simple to understand, without the need to extract and transform that data in additional tools.
For more information on how to manage, edit and use reports, visit our support page.