Setting up secure industrial remote access to a PLC or HMI has never been easier. Your industrial devices can get online in just minutes, so you can gain complete network access to your PLC or HMI. The IXON Cloud is your Industrial IoT platform to remotely control all your industrial machines and systems. Unlimited users and forever free of use!
Faster industrial remote access and troubleshooting of your PLC, HMI, robot...
You can connect any type of industrial device to the IXON Cloud, such as your PLC, HMI, industrial PC, robot or IP camera. Use one of our many connectivity solutions to get your device online. IXON's edge gateways, industrial VPN routers and embedded software agents, support all major industrial devices. Seamlessly integrated with the IXON Cloud to create a simple but comprehensive remote access solution.
Program, troubleshoot and maintain all your industrial equipment remotely. The IXON Cloud is designed to help make your job easier. Spend less on unnecessary travel costs and time by providing remote service using IXON Cloud.
Because of industrial remote access, BMO Automation was able to improve the efficiency of its service department. Find out how they can now resolve 90% of machine issues remotely. Download the case study.
Secure remote communication made easy using IXON Cloud
We made it easy for you to connect your machines remotely with a fully integrated solution. Find out how remote access using the IXON Cloud solution works: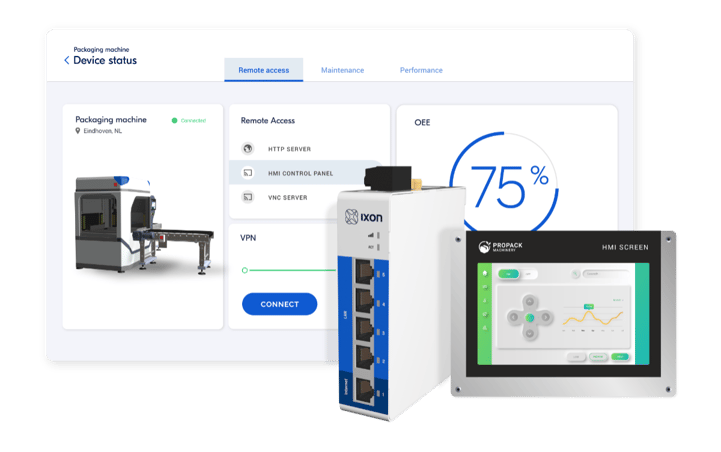 Industrial Remote Access in 3 Steps
Tip: Test IXON Cloud for free with the IXrouter evaluation kit – 30-day trial.
1. Create your company account on IXON Cloud
To manage all your machines, just register your free company account on the IXON Cloud. Easy as that. Invite all your colleagues and you're ready to start connecting all your devices – unlimited and free of charge.
An engineer can easily use the IXON Cloud to manage all their customers' machines and select the machine he remotely wants to connect to.
2. Connect your device to the IXON Cloud
To get your machine connected to the cloud, you need to attach an IXrouter (edge gateway) to your device. Set up the network configuration and it will automatically connect to your company account on the IXON Cloud within minutes.

3. Setup a secure remote VPN connection to your PLC
Once your machine or system is connected, it's remotely accessible using a secure VPN connection. With a single click on the IXON Cloud, a fully secure VPN tunnel is set up between the engineer and the machine as if you were on-site. No firewall stress.
Now you can download and upload PLC programming software for troubleshooting!
Setup industrial remote access to control your HMI
Configure Web Access to monitor and control HMIs (via VNC/WebVNC), or access the machine's web server. Installing a VPN software client is no longer necessary to remotely access your machines via browser or mobile app. It's all there, just set it up on your IXON Cloud portal.
Why IXON is your best choice for industrial remote access
Industrial IoT portal included – with the latest innovative features
Access to IXON Cloud and use of industrial remote access features are completely free and included with the one-time purchase of a connectivity product. The Industrial IoT platform is entirely customizable to fit your company's branding.
Industrial Remote access (VPN) is just the beginning. IXON Cloud is home to many features which allow you to capture machine data, make it available for alarms or visualise it in dashboards. Check all features of IXON Cloud.
Security is in our DNA
Benefit from our in-house security officer and IoT experts, who ensure the security of the IXON Cloud and your customer's network and machines. Check our security measures.
Built for scalability, ease and quick access
The IXON Cloud is provided with the most user-friendly interface to make it easy for everyone. No technical know-how required! Using the best cloud infrastructure to optimise performance – low latency worldwide and scalable according to your business needs.
Open ecosystem
You don't have to fear about being locked in and restricted to the IXON Cloud. The fully open SaaS platform is open to third-party integrations, such as Tableau BI. Transfer your machine data to other SaaS applications with the comprehensive REST API and webhooks. You can retrieve raw data or ask smart questions for which the IXON Cloud will instantly calculate the answers in real time.
Robust and compact industrial VPN router
The IXrouter is a compact metal-cased industrial VPN router which is robust and fits in any circumstance. The industrial router is available in several variations and enriched with edge functionality. No matter your situation, you can always connect your machine to the cloud using the Ethernet, 4G/LTE, or Wi-Fi models.
You can connect any type of industrial device to the IXON Cloud, such as your PLC, HMI, industrial PC, robot or IP camera.
Compatible with all major PLC brands
IXON is compatible with all major PLC brands like Siemens, Beckhoff, Lenze, Omron, ABB, B&R, Wago, PLCnext, Allen Bradley, Rockwell Automation, Sigmatek, Festo, Panasonic, Universal Robots and many more... Check our plc remote access blog.
Ready to help
Our support portal is available for any questions during setup. In case of issues, you can contact our dedicated support agents who are happy to help you.
Say goodbye to other industrial remote access solutions?
Saying goodbye to something you're familiar with is hard. But if you want more ease, advanced machine data features, unlock new business models and be future-proof, you need to take the next step.
With the IXON Cloud, you get more than just industrial remote access, all part of your own branded IoT environment. Discover why our customers switched to IXON.
Try our remote access solution for free with the evaluation kit. In 30 days you can experience the easy setup, robust IXrouter and all other features of IXON Cloud. Give it a go – no obligations!